Why choose Practical Environmental Solutions (PES)?
Home buyers, banks, and insurance companies have become more concerned about the problems and liabilities associated with heating oil tanks found at houses built in the 1940's, 1950's, and 1960's.
Since 2001, PES has specialized in helping homeowners and potential buyers resolve heating oil tank and contamination issues by offering a variety of services including:
Searching for unknown tanks
Tank removals
Tank closures (in-place)
State-required incident closures
Tank evaluations
Contamination cleanups
Other related work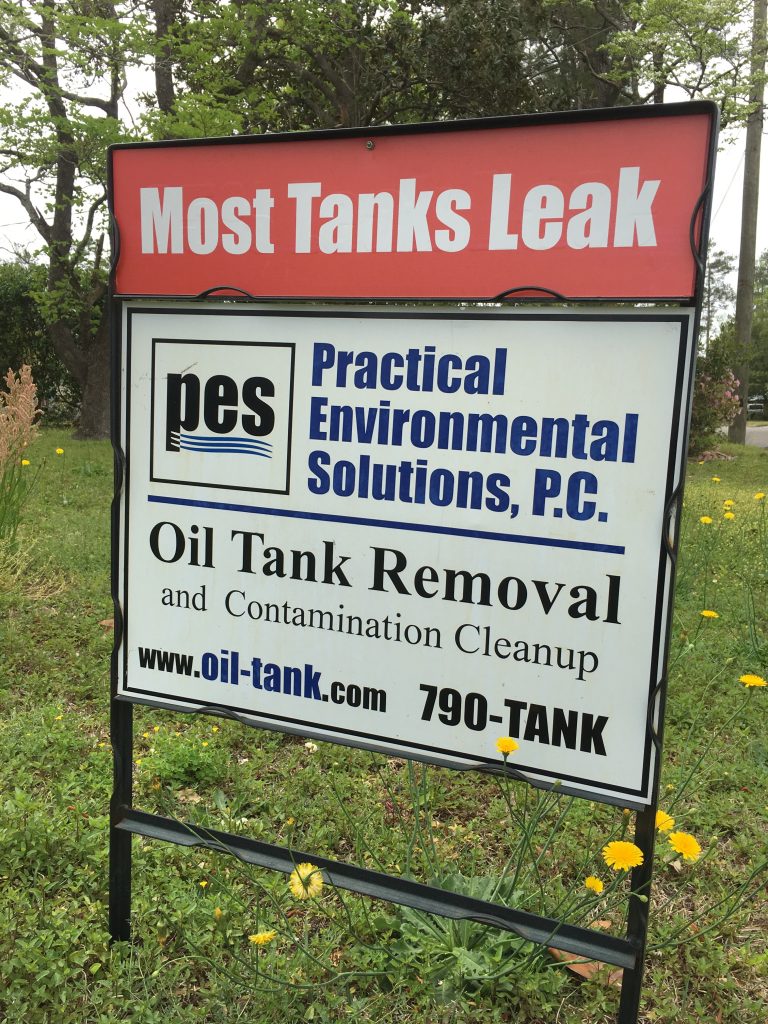 We didn't make up the North Carolina and Federal regulations and we can't change the facts, but we can help you resolve your tank problem as timely and painlessly as possible while providing excellent communication and customer service.
Take a moment to read our Google reviews and Facebook Recommendations.
Who is qualified to conduct tank removals and contamination cleanups?
Just because they can operate backhoe, doesn't make them qualified. Just because they have a geology or engineering license, doesn't make them qualified.
To end your tank and contamination liability and conduct efficient site work, your environmental contractor needs to be licensed and experienced.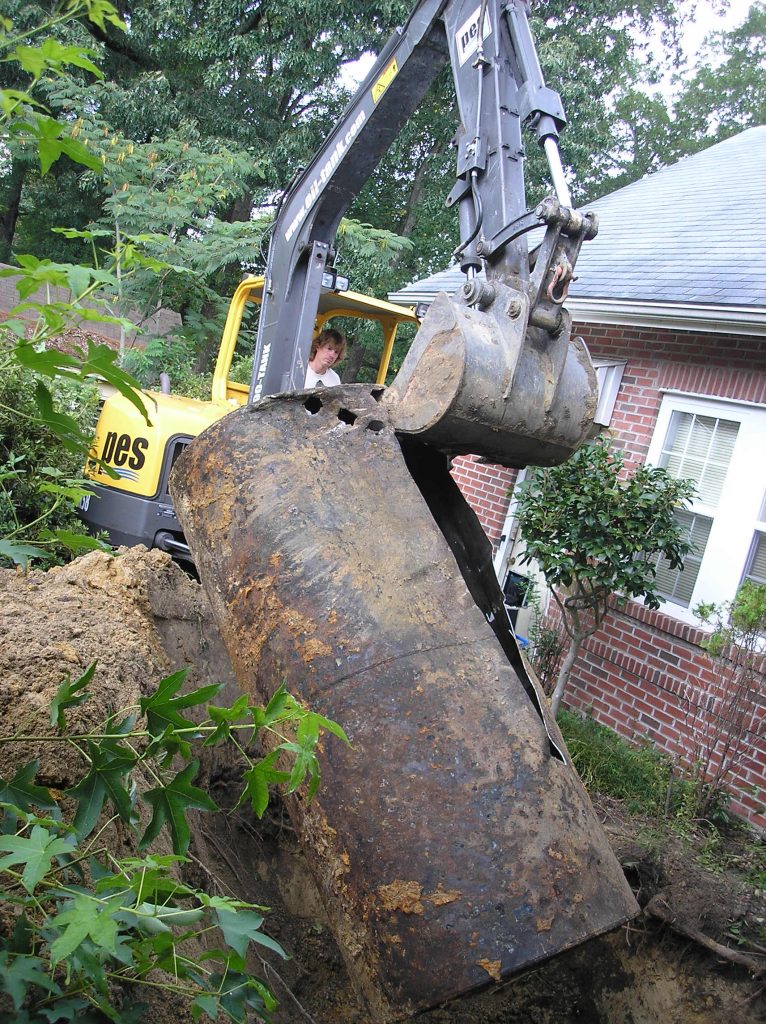 Practical Environmental Solutions has removed hundreds of oil tanks mostly in southeastern North Carolina since 2001, removing additional tanks every month.
Other companies may have removed a tank before, but how many tanks did they remove in the past 3 months? Do they really have a proven plan designed to address the specific needs of your site and comply with the State regulations?
Hundreds of tanks have taught us well. There is no substitute for that learning curve.
The top reasons to use Practical Environmental Solutions:
01. Satisfaction Guarantee
You only remove your tank one time. Competency and the quality of work is the most important aspect of any project. When dealing with environmental regulations and State compliance, experience and expertise is crucial. PES will provide you with the best turnkey service, the best end result, no trouble with the State, and no other project headaches.
02. Unsurpassed Experience and Quality
Since 2001, PES has removed and cleaned up hundreds of residential oil tanks, removing additional tanks every month, more than anyone else in southeastern North Carolina.
We conduct everything "in house" – no subcontractors. This ensures higher quality control and better work results.
We own the perfect equipment to work on residential properties: small and light enough to protect the yard and driveway but large enough to get even the biggest job done well. You can't rent the size machines that we have.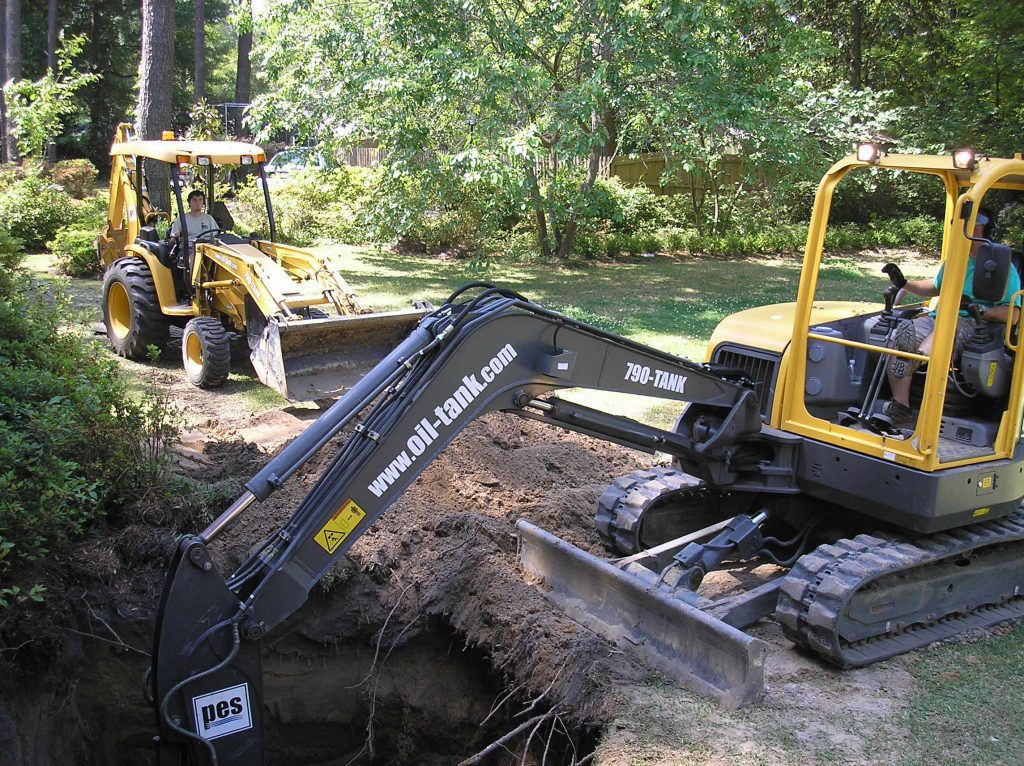 We work efficiently according to careful "site specific" planning.
Before we begin, we develop a strategy to conduct each step of your entire project. We carefully consider the end result needed for State compliance and how to complete that work with the least amount of site impact. We are not "figuring it out as we go." I guarantee trial and error is how some environmental companies are removing tanks.
Kirk McDonald, P.G. personally supervises every project.
Other companies typically send out a less experienced employee to supervise and manage the project. This employee may have only worked on 1 or 2 other oil tank projects. You don't want a new project manager getting "on the job training" during your tank project.
I have over 30 years of experience working both inside and outside the State agency that regulates underground tanks. This knowledge allows me to develop the best strategy for your tank removal and contamination cleanup. It includes planning every detail including the "right" words when communicating to the State.
Our oil tank experience and owning the perfect equipment for residential tank work allows us to complete your project very efficiently. This means less time in your yard and making a lighter impact. Similarly, having done so many tank projects, we know how to navigate your project through the State requirements in a timely manner.
Unlike other environmental consultants, PES specializes in heating oil tanks.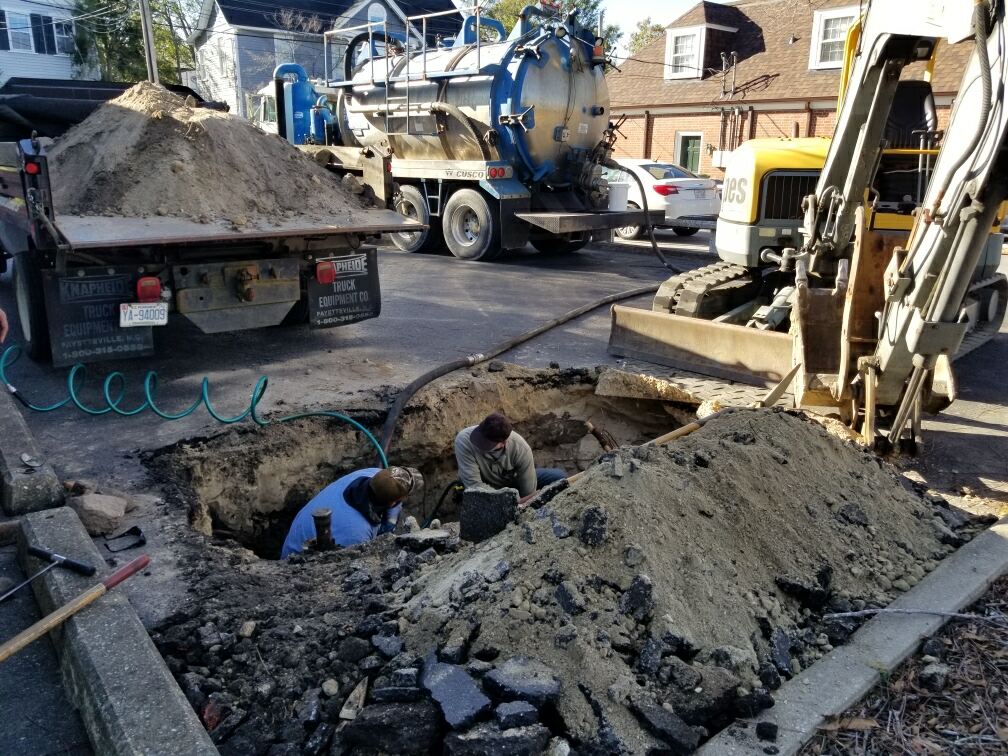 03. Honesty and Integrity
When Practical Environmental Solutions started in 2001, I had more than one person tell me that "environmental consultants didn't have a very good reputation." I know! I reviewed their project reports when I worked for the State.
That's exactly why I started PES:
To offer people a qualified, knowledgeable, honest company to help them conduct the necessary oil tank work and to successfully navigate through the State's regulations and requirements.
To eliminate potential trouble with the State, we do everything according to the government regulations, guidelines and changing policies. We never cut corners that may cause problems later. Such important details include washing the tank empty before physically moving it to avoid slops and spills during removal, packing the back fill in the excavation properly to prevent settling, and cleaning up your yard after the tank removal. These things take more time but, they are important to your finished product.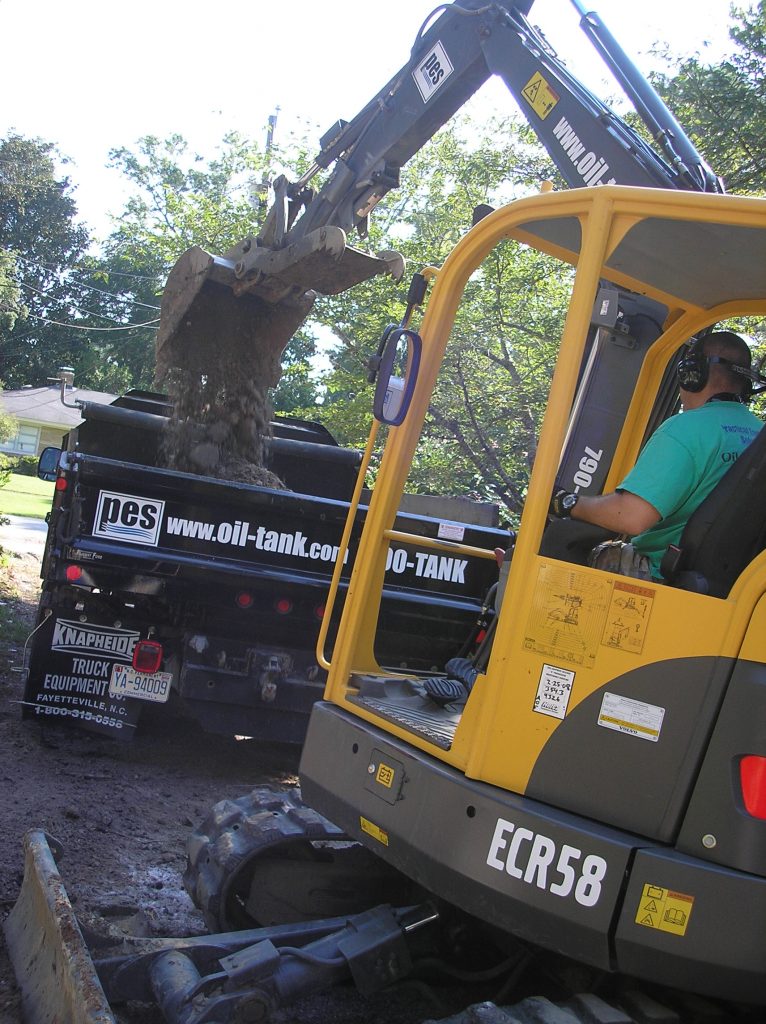 04. Limits Your Liability by Fulfilling State Requirements
Remember the main purpose of removing the tank is to conclusively end your environmental liability. To do this you must conduct a proper tank removal and have everything documented by a licensed geologist. Our State licensing gives you an additional level of accountability for the work that we perform.
Kirk W. McDonald, North Carolina Geology License #1000 (since 1986).
Practical Environmental Solutions, P.C. corporate Geology License C-348.
Anyone with a back hoe might be able to dig a hole in the ground, but you need a licensed professional to:
properly remove your tank
end your legal liability
comply with all of the State requirements
conduct contamination cleanup as necessary
The State of North Carolina requires that a licensed geologist collects soil and groundwater samples. They are also require that all official documents and reports are "sealed" by a licensed professional.
Conducting the appropriate sampling and the required cleanup tasks according to State guidelines are critical for you to limit your tank and contamination liability.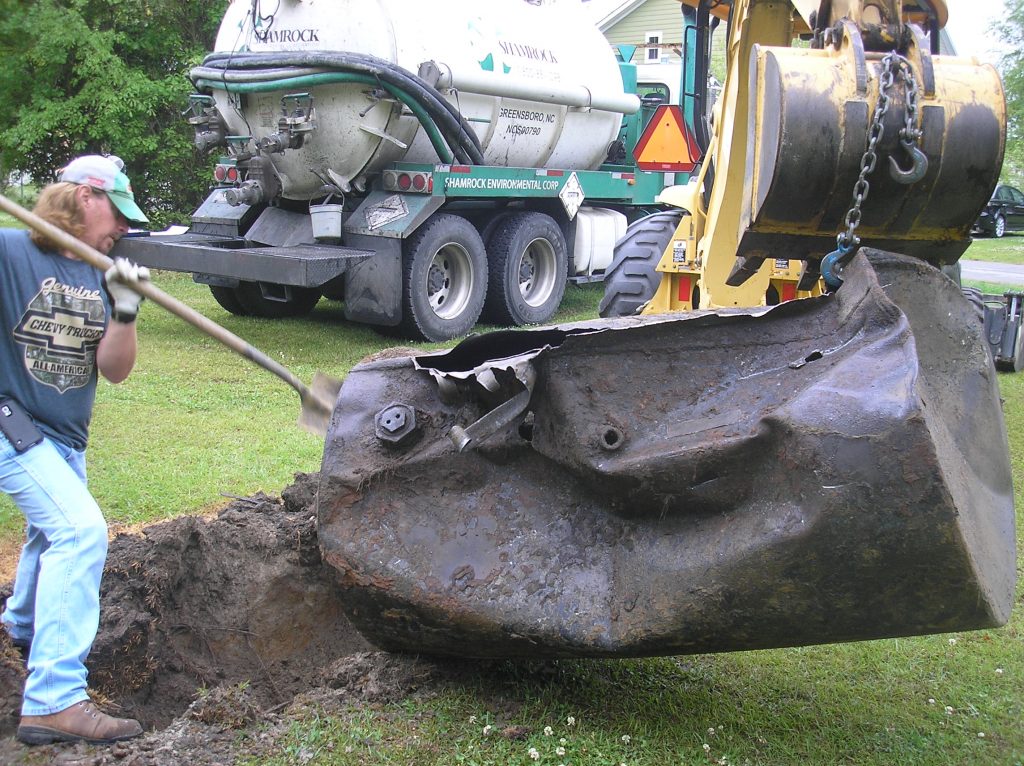 05. Firm Pricing
Because we know exactly what we are doing based on hundreds of completed projects, we can quote the entire job so you know your bottom line cost before you start the project. No surprises or cost add-ons.
"Billy Bob Backhoe" or "We do anything but not very well Engineering/Environmental" might offer you a lower price to get the job but then they add on other costs along the way because they didn't think through the whole project, or maybe that's just how they do business and get work. Check out our Google Reviews.
It's always better to do the job right the first time, rather than correcting things done sloppily after the fact.
In our experience, a company who offers to remove your tank for less than PES is cutting corners or leaving something out. PES writes out our full scope of work so you know exactly what we are going to do and what it will cost.
Most people don't shop for the cheapest dentist or doctor. You find someone good that you can trust. When it comes to your oil tank, Practical Environmental Solutions wants to be that trusted person.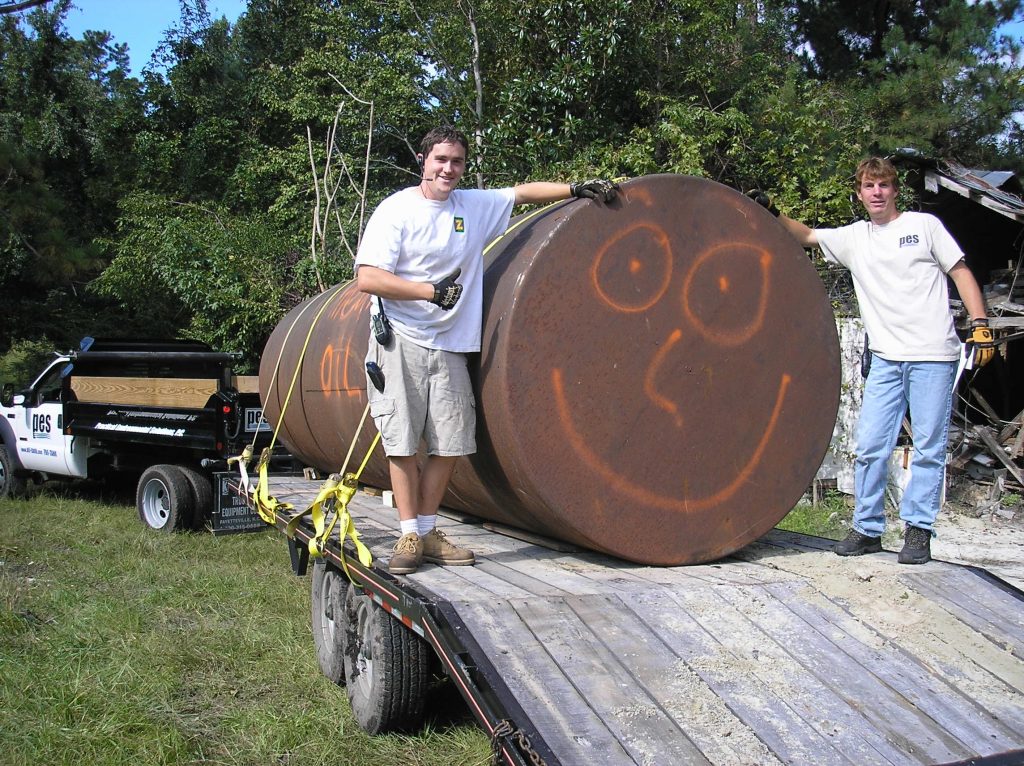 06. Total Project Management
We do everything so the tank owner doesn't have to do anything.
Because we have a good relationship with North Carolina's UST Section project managers, they communicate directly to us regarding your project. You don't have to be nervous about what to say if the State calls you. We handle that.
We continually communicate the project's progress to our clients and are always available to answer questions.